CAPRI – POSITANO BOAT EXCURSION
A cruise that will inspire the senses, in a single day tour see some of the most renowned destinations by poets and explorers.
Positano and Capri are the highlights of this area. With this tour you will have the opportunity to visit both places from the comfort of our hand crafted Sorrentino boats.  On this tour we will show you the highlights of Capri and the Amalfi Coast with the possibility to spend some time on land exploring both hot spots.
The excursion will proceed as follows: You can admire Capri closely thanks to our private tour around the Island. While sailing along in a typical artisanal boat of the Sorrento area one has the unique opportunity to marvel at one of the greatest natural wonders, the famous 'Faraglioni' rocks.  With our skilled captains you will also have the chance to enter the Coral Cave,  White Cave, the Green Cave and the Blue Lagoon, capturing beautiful pictures and tell-tale memories.  The tour will then continue on to Positano where you will have the option to spot at an exclusive water-front restaurant and time to swim in some of the best spots in the area.
A journey with the myths and legends of our land, an experience that will also offer you the opportunity to dive into the historic port of Positano for an unforgettable tour of the most famous and characteristic streets around the world.
Because a boat day with Mamma Mia can't be forgotten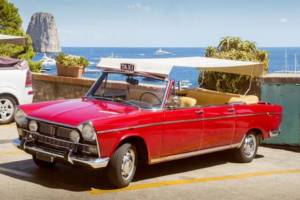 TAXI TOUR IN CAPRI
Thanks to our on-demand service, you can easily and comfortably visit the island of Capri aboard a typical taxi. You won't have to think about anything! Contact us if you are interested.